Natasha Nandini returns to The Ananta Yoga Studios!
GAYATRI MANTRA, SOUND SADHANA
& YOGA
with Natasha Nandini
At – The Ananta Yoga Studios,5, Wentworth Place, Wicklow Town
On – Friday 25th, Saturday 26th & Sunday 27th May 2018
Bookings – Booking is essential
Call/Text Liz Richards 086 8963425
Email -anantawicklow@gmail.com
Payment options will be available on registration as above.
We are delighted and honoured to welcome Natasha Nandini of Gandharva Yoga once again to Wicklow to facilitate these special workshops which were so well received on her first visit to The Ananta Yoga Studios in December 2017.
There will be four sessions over this weekend. Friday night can be taken on its own but both Saturday morning & afternoon sessions along with Sunday morning must all be taken together. It is highly recommended for those participating in the Saturday & Sunday workshops to attend also on Friday evening.
Details as follows –
GAYATRI MANTRA
Friday 25th May
7.00-8.30pm
Cost: €20
This evening of music is open to all.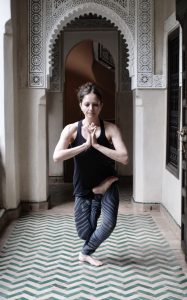 ABOUT
Singing is one way that we can gather our own personal power. While the aim of this gathering is to learn the powerful Gayatri
mantra, it is also the aim, through music, to retain the information spontaneously in a delightful and enjoyable way.
There are two levels of well-being; the physical, and the mental. While the foods we take in address the first, it is through mantra that our mental or psychological healing is taken care of. Mantra can be seen as a way of harmonising ourselves with the power of that which is higher than us. Mantra is seen to be a manifestation of the cosmic vibration and so it has the potency of cleansing our psychic environment.
The Gayatri mantra is dedicated to the Sun Deity, Savitri from the Rig Veda. It is held in high regard with citations in many important
texts such as the Bhagavad Gita and some Upanishads.
Mantra is a form of meditation (dhyana). It is in the intention and attention of its repetition that the true power of mantra is released.
In India students recite this mantra in order to acquire all aspects of knowledge. It is used to enhance memory, and take away
deprivation. It is said that by chanting this mantra the face will shine bright, the eyes will sparkle, intelligence and concentration will grow, anger will be silenced, and fulfillment is acquired.
SOUND SADHANA & YOGA
Saturday 26th May
10.00am -12.30pm Sound Sadhana
2.00pm – 4.00pm Yoga Practice
Sunday 27th May
10.00am – 12.30pm
(while not essential, Friday night will be a good introduction/preparation for Saturday)
Cost –
€20 for Friday night only
€120 for all three Saturday & Sunday sessions
€130 for Friday night and all three Saturday & Sunday sessions
ABOUT
The aim of most art forms in India is to elevate the consciousness of the practitioner so as to be able to communicate with the more refined, and subtle dimensions of experience within the planes of existence. Correct placement of limbs is only a part of the practice and must be accompanied with concentrated awareness in order to be successful. The Angahara is a practise made up of bodily movements in which the feet are cultivated first, in order to uphold and give freedom to the external structure which rests upon them.
Since the Vedic period it has been accepted that sound penetrates matter on a subtle level. Sophisticated cymatic experiments these days, show us how sound frequencies can push elements into geometrical shapes. In the same way, singing penetrates the tissues. Made up of fire and air, it is a powerful tool to bring our attention into sharp focus and to free the body of lethargy and stiffness.
This workshop will use the voice, through singing, to prepare the body for The Angahara.
Some yoga experience required.
Natasha Nandini
http://natashanandiniyogini.com/index.php/data/
https://youtu.be/G5cqXbpvKPo
ABOUT NATASHA
Since 1997 Natasha has been studying yoga, Indian classical dance and Indian classical vocal as methods to cultivate the self.
In her spare time she studies Tantra, mainly non dualistic Kashmiri Shaivism and the Shri Vidya, with a focal point on srsti/samhara through sound.
She is currently re working a translation of a Tantric text attributed to Shri Goraknath, the first edition is available as a free PDF download on her website
www.gandharvayoga.com/data.
She has been travelling to Varanasi, India for the last 20 years to deepen her studies and to host cultural tours with an emphasis on an inside look at the musical and religious lives of the local people.
She currently lives in London where she teaches Yoga and sound through song.
Her main teachers are Pts. Rajan and Sajan Misra and Prof. Ritwik Sanyal.