LIZ RICHARDS – TEACHER PROFILE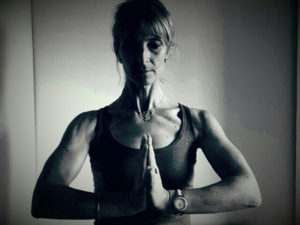 Liz Richards is the founder of The Ananta Yoga Studios and a Yoga Alliance Certified Instructor with over 850 training hours behind her. She has been teaching Yoga full time since 2008.
She teaches Classical Yoga using the Vinyasa system for all levels from Beginners – Advanced students and her teaching is firmly rooted in the teachings and lineage of Krishnamacharya. She also runs the popular Yoga For Runners & Athletes classes and specialises in One to One Private Yoga classes with students who are recovering from accident, illness or injury or who are returning to yoga after a break.
Liz's passion for yoga is preceded by a love of ballet, modern dance, gymnastics and equestrian sport in her teens. Having dipped in and out of yoga from her late teens, she began attending regular yoga classes following the birth of her third child in a bid to shape up and beat post-natal depression.
She established a disciplined daily practice in the form of Ashtanga Yoga and was instantly drawn – as so many students of yoga are – to the often challenging physical aspect of this ancient discipline. In less than six months she found that not only had she regained her pre-baby figure, but felt healthier and stronger and had also begun to see light at the end of a very dark tunnel as the post-natal depression lifted.
A restless, enquiring mind and a desire to immerse herself more deeply in the philosophy behind the system of yoga and the hugely transformative nature of the practice led her eventually to a new teacher.
She began attending Vinyasa Yoga classes in Dublin with David Curtis and this is where her journey truly began. She discovered a form and a method of teaching Hatha Yoga through the Vinyasa Krama system that could be made accessible to students of all levels regardless of age, gender, fitness levels and stage of life through it's intelligent sequencing teaching method and structured approach.
Inspired by this discovery Liz went on to successfully complete two extensive teacher training courses in 2007 & 2009 under the guidance of David Curtis and Ruth Walshe of Vinyasa Yoga Dublin. She is truly grateful for their inspirational, caring and professional approach to what was a very tough but a profound and life-changing experience not only from a yoga teacher training perspective but also on a personal growth and development level. A disciplined and daily self practice is the inspiration & foundation for both her teaching and her ongoing journey of self enquiry through yoga.
Over the past few years Liz has explored and practiced many different forms of and approaches to yoga and has taken workshops and trainings with senior teachers in all. These include Iyengar, Ashtanga, Vinyasa Krama & Viniyoga. She is grateful for all she has learned from each of these and has taken what has resonated and infused it into her own practice and teaching. For the past ten years she has also spent much time reading and exploring many ancient Yogic texts, Patanjali's Yoga Sutras and the philosophies of Samkhya and Vedanta. She also practices and adheres to the principles of Ayurveda (the sister science of yoga) in her daily life and in the management of the health and well being of her family.
Liz continues to study with David Curtis and is grateful every day for his wisdom and patience. She attends regular workshops and trainings with national and international senior teachers and in recent years, she has begun to explore the system and practice of Shadow Yoga – a sophisticated approach to the practice of Hatha Yoga founded by Shandor Remete – under the guidance of David Curtis.
She commenced studies in Germany in August 2016 with Vinyasa Krama teacher Srivatsa Ramaswami – a direct student and disciple of the legendary Sri Krishnamacharya for 30 years and she is also currently a student of Ramaswami's senior UK Vinyasa Krama teacher Stephen Brandon having undertaken a 100 hour Vinyasa Krama training under his guidance in August 2017.
Liz established The Ananta Yoga Studios in April 2009 where she continues to teach Vinyasa Yoga as well as being a busy wife and Mum to three beautiful children. She is now also leading yoga retreats in Ireland at The Courtyard Yoga Retreat in Co. Wicklow and Marlfield House in Co. Wexford and is preparing to lead yoga retreats & workshops in Scotland, France, Spain and Sweden from 2017.
She feels privileged to be working along side other inspiring and great teachers of many disciplines in such a beautiful space. She is grateful every day for the opportunity to share the little knowledge she has acquired and is humbled to find that as first and foremost a student of yoga herself, it is in fact her students who are among her best teachers.
All Vinyasa Yoga Classes with Liz Richards are open to both male and female students from 15 years of age. Separate teen classes cater for those aged 12 – 14 years.
Classes Available at Ananta Yoga Studio:
Contact Liz Richards:
Tel: (086) 8963425