Mark Kinghan – Teacher Profile
Mark Kinghan began his journey of self enquiry and study of spiritual practices in the early 80's with the practice of Aikido and Qi gong. He became immersed in Buddhism and completed his first Vipassana course in 1984.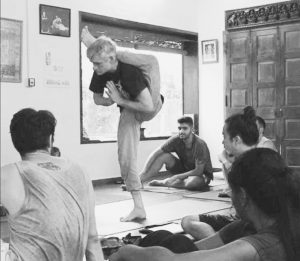 Mark also studied Acupuncture in the 80's and qualified with The Acupuncture Foundation of Ireland in 1990 continuing on to complete his Acupuncture Clinical Training in China. Following many years of practice he completed his training in Qi gong and began teaching in 2000.
He has studied Ayurveda under the guidance of Dr David Frawley and recently has spent a month furthering his Ayurvedic studies in th Jss Ayurvedic Hospital in Mysore, India. Mark has also studied and qualified in Thai & Aromatherapy Massage.
Marks interest in the internal arts eventually led him to yoga and he completed a 200 hour Teacher Training in the Elbow Room in 2013. His main yoga practice at this time was in the Ashtanga tradition and he went on to complete a 40 hour training with David Swenson in 2013.
In 2015 Mark met Srivatsa Ramaswami and Uk Snr Vinyasa Krama teacher Stephen Brandon and since then has been passionate about teaching and practicing Vinyasa Krama Yoga. He has completed several intensive trainings with both Ramaswami and Stephen in the past four years including a 100 hour Advanced Vinyasa Krama Training in Chennai with Srivatsa Ramaswami.
Mark currently teaches Vinyasa Krama Yoga and practicing Chinese medicine. We are delighted to welcome him to The Ananta Yoga Studios where he will be teaching a Vinyasa Krama Yoga class for men and offering Acupuncture.
Classes with Mark at The Ananta Yoga Studios
Contact Mark (087) 2217783