Chair Yoga with Louise – New term!
Try a class any time for €5!
WHEN – 12.00 noon to 1.00pm
ON – Mondays & Fridays each week
WHERE – The Ananta Yoga Studios, 5 Wentworth Place, Wicklow Town
COST – €50 for 6 weeks, €10 drop-in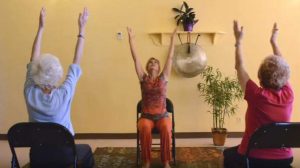 BOOKINGS – Call/Text Louise 087 6032202
What students are saying about the classes:
"I can put my socks and shoes on more easily since starting chair yoga classes"
"I am better able to look around when turning and reversing in my car"
"I have more mobility in my feet and ankles now"
"I have less pain in my arms and shoulders"
ABOUT
Louise is running two weekly Chair Yoga classes at our studios as well as in Laragh and Aughrim with great response from her students. In addition, she runs classes at local nursing homes and other organisations.
Our venue has free parking (limited) and has ample street parking in the surrounding area. Access into the studio is step-free when entering at the rear of the building. We are in close proximity to shops and cafes as well.
Chair Yoga is suitable for those who may find our regular yoga classes too strenuous – those who may be completely new to yoga, recovering from injury or illness or generally less active and mobile. It is also – of course suitable for all yoga students who simply would like to try this method of practice. It is a great social outlet for participants each week.
The class takes students through centring and breath-work, followed by postures that let the joints move through their range of movement whilst seated or through use of the chair whilst standing. These postures will provide gentle stretching, improved strength and flexibility, as well as helping students to find balance and calm in everyday life.
Booking essential – Call/text Louise 087 6032202
www.anantayogastudio.com