Emergence of Yoga – Yoga Sadhana – Based on the teachings of T.K. Sribhashyam
A Five Day Intensive presented by Stephen Brandon
Dates: Wednesday 12th – Sunday 16th April 2023
Venue – Ananta Yoga & Ayurveda, 5, Wentworth Place, Wicklow Town, Ireland
Workshop Fee:
EARLY BIRD offer – €395 if paid in full by Friday 24th February 2023. After this date the full fee of €425 is payable
Payment options will be given upon booking.
Participation is open to sincere students of all yoga traditions by advanced booking.
Enquiries to Liz Richards
+353 (0)86 8963425
anantayogaevents@gmail.com
ABOUT
Sri T.K.Sribhashyam was the youngest son of Sri T.Krishnamacharya and taught Yoga in Europe from 1970 – 2017. The book Emergence of Yoga was produced as a support for his students and contains the essential practical teachings that he shared with western students. It is based on a spiritual Sadhana taught by the ancient Rsi Yajnyavalkya and transmitted to Sribhashyam by his Father.
It is important to emphasise the spiritual orientation of this approach. It is a direct method to realise the soul and attain spiritual liberation, so is meditative in its approach. As Sribhashyam says in his book, Yoga Sadhana is the name Yagnavalkya gave to the set of practices whose aim is to stop punar murtyr or punar janma (the cycle of birth and death) so this is a nivritti dharma.
On completion of the Five Day Workshop you will be able to attend ongoing sessions in a study & practice group to deepen your practice and understanding.
Note: This is not a teacher training course.
The Workshop will cover study of the fundamental concepts described in the book Emergence of Yoga along with practical sessions.
Study of some of the subjects presented in each chapter of E.O.Y.
Asana, Mudra and Pranayama: theory and practice
Explanation of the structure of the practice sequences
Ashtanga Yoga from the perspective of this practice.Practice sessions based on the indications given in the book Emergence of Yoga
Principle of Life-Saving Sessions
Dharana on Vital Points
Principle and technique of Dhyana
Daily Session Times
Note: On the third day we will finish at 15.30 to allow a recess and on the last day we will finish at 15.30 following a practice session.
09.30 -11.00 Presentation or Practice Session
11.00 – 11.30 Break
11.30 – 1.00 Practice Session
13.00 – 14.00 Lunch Break
14.00 – 15.30 Theory Session or Practice session
15.30 – 16.00 Break (Recess on Day 3 and Finish on Day 5)
16.00 – 17.30 Practice Session
T.K. SRIBHASHYAM
Sri T.K.Sribhashyam was born in Mysore (India) in 1940. According to the family tradition, Sri T.K.Sribhashyam studied Indian Philosophy, Ayurveda and Yoga under the transmission of his Father and Master T.Krishnamacharya. He began teaching Yoga in 1956, and taught in Europe in English and French since 1970. He was the founder of Yogakshemam Teachers' Training School in France and Switzerland.
He was one of the main participants in the documentary "Breath of the Gods" & published several books including "Emergence of Yoga", "Moksha Mārga", and "Bhakti: Quintessence in Indian Philosophy" and "From Devotion to Total Surrender, Śaraṇāgati Yoga".
"Santa means peace. When the mind is quiet without any agitation, man experiences peace. Rasa is essence. The essence of peace is santa rasa. So santa rasa is the peaceful state of mind. It is spiritual harmony."
T.K. Sribhashyam & Alamelu Sheshadri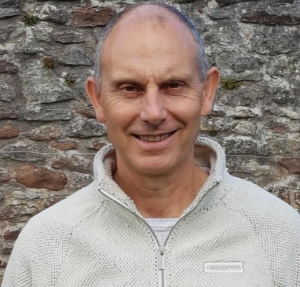 STEPHEN BRANDON
Stephen Brandon met T.K. Sribhashyam in 2015 and arranged for him to teach a 5 day Seminar in the UK in July 2016. He continued his contact & studies with Sribhashyam until he passed away in November 2017. Stephen continues to study with Mrs Brigitte Khan, assistant teacher to T.K. Sribhashyam.