Vanessa Peare - Teacher Profile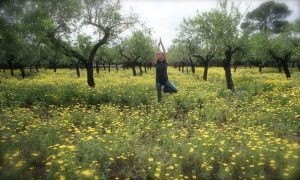 Vanessa had dipped in and out of yoga since her early twenties but did not recognise the true value of the practice until she began to take classes with Vinyasa Yoga Instructor Liz Richards at The Ananta Yoga Studios. Life with three children was busy and Vanessa needed to find peace in her life. She found this peace in her weekly classes at The Ananta Studios on her yoga mat. With a home practice already evolving she dived deeper and deeper into this transformative process.
Vanessa commenced a 200 hour Vinyasa Yoga Teacher Training Programme under the guidance of David Curtis of Vinyasa Yoga Dublin at The Ananta Yoga Studios in October 2014 which was spread out over a two and a half year period to ensure the highest standards of personal practice and foundations for teaching were established. She has enjoyed every minute of this wonderful – although often tough – self-discovery journey and is profoundly grateful to have discovered yoga and the teachers who have subsequently guided her.
Vanessa was led by Liz Richards to Brian Siddhartha Ingle, who teaches and trains teachers in Hanna Somatics. She began training in Somatic Movement under his guidance – at first with the intention of including the movement lessons in her yoga teachings. This quickly evolved into immersing herself into a full Somatic Movement Clinical Training Programme which she she will be continuing over the next three years.
Vanessa is delighted with the opportunity to continue the Somatic Movement learning process and to pace it out so as to give time to incorporate each practice into her own body. It is a practice that she connected to straight away. It has taught her to feel, sense and know her body in a way like never before. For her, it is a deeply grounding practice that teaches her, as does yoga, to find that inner peace in her daily life.
Vanessa will be fusing these Somatic Movement lessons and Vinyasa Yoga together in a Beginners Yoga class to bring a strong emphasis on sensing the body and tapping into a deeper place of self-awareness.
Vanessa is a qualified Ante-Natal Yoga Instructor & teaches Pregnancy Yoga Classes at The Ananta Yoga Studios. She also teaches children's yoga and loves it! Watching kids respond to the challenges and the kindness of the practice at such a tender age is a joy and she plans on continuing this in order to help the young find a safe environment, with no judgement where they can learn to love themselves and their bodies and find the peace that they need to help them with their busy lives.
This incredible journey has re -introduced Vanessa to her writing, one of her favourite ways to spend time. She writes Spoken Word poetry. One of her poems is titled – 'The Gift of My Yoga Mat'.  Here is a small excerpt which describes some of the impact Yoga and Somatics have had in her life.
"All my Yoga Mat has ever asked of me is to draw shapes with my body, to breathe consciously and let the thoughts in my head turn to feelings in my body and in return my yoga mat has help me see that when I feel alone, I am worthy of asking for help. It has brought a stillness to this wheel of doubt and a peace and quietness that has so rarely found me. And like a dear old friend – My Yoga Mat came to show me the sun, the moon and the stars and my place among them."
Classes with Vanessa at The Ananta Yoga Studios
Contact Vanessa – 086 8982559