THE YOGA OF SRI T. KRISHNAMACHARYA –
18/11/1888 – 28/02/1989
On this auspicious weekend which marks the 130th birthday anniversary of Sri T. Krishnamacharya – The Father of Modern Yoga, we are delighted to present –
A Weekend of Traditional teachings –
with Senior UK Vinyasa Krama Yoga teacher – Stephen Brandon
At – The Ananta Yoga Studios, 5, Wentworth Place, Wicklow Town, Ireland
On – Friday 16th November (Evening Session)
Saturday 17th November (2 sessions)
Sunday 18th November (2 sessions)
Times –
Friday 16th November 7.00pm – 9.00pm
Saturday 17th November 9.00am – 12.30pm
2.00pm – 5.30pm
Sunday 18th April 9.00am – 12.30pm
1.30pm – 4.00pm
(See below for workshop details, and content – along with fees and options for sessions).
EARLY BOOKING ADVISED!
Bookings/Enquiries – Booking is essential!
Call/Text Liz Richards 086 8963425
Email – anantawicklow@gmail.com
……………………………………………………………………………………………….
ABOUT
Based on nearly two decades of study and practice Stephen will share in five sessions over this weekend – the legacy of Sri T. Krishnamacharya and investigate Yoga through theoretical presentations and practical sessions.
Key principles of Yoga will be presented & supported by sample practices. We will explore these teachings together to bring practice and understanding together, the Why and the How of Yoga. This workshop will lay the foundations for further studies in workshops and an immersion in 2019.
……………………………………………………………………………………………….
WORKSHOP WEEKEND SCHEDULE AND SESSION OPTIONS
……………………………………………………………………………………………….
Friday 16th November 7.00pm – 9.00pm
"Sri T. Krishnamacharya – His Life and Teaching"
This presentation will cover the life of Krishnamacharya, his teachings and students. We will explore the Vedic culture that Krishnamacharya was immersed in, his family lineage, his immense studies and devotion, his students and important principles of his teachings.
(Open to all students and this session can be taken on its own. It is strongly recommended to attend this lecture if taking part in the rest of the weekend as it will lay the foundations for the workshop)
……………………………………………………………………………………………….
Saturday 17th November –
Session 1 9.00am – 12.30pm
"Vinyasa Krama & Viniyoga – Tools of Yoga and their Intelligent Application"
The core, integrated methods of Yoga are laid out in Patanjalis Eight Limbed (Ashtanga) Yoga. We will investigate these eight limbs and look at their appropriate application.
Lunch – 12:30pm – 2.00pm
Session 2 – 2.00pm – 5.30pm
"The Ancient Source – Samkhya, Yoga & Vedanta"
To successfully navigate the path of Yoga we need authentic guidance. We need to develop knowledge (jnana) and right action
(karma). Reading the philosophical texts with the help of a teacher is Adhyana and receiving instructions from a teacher with full understanding of the meaning is called Sabda. Study of texts is approached by study with the teacher, reading and
reflecting, and by chanting. We will explore some key themes in the primary texts on Yoga – Samkhya-Karika, Yoga Sutras and
Bhagavad Gita. We will listen to some chanting and chant some selected verses together.
……………………………………………………………………………………………….
Sunday 18th November
Session 1 9.00am – 12.30pm
Surya Namaskara Practice
We will firstly practice together the traditional Vedic Surya Namaskara routine. This will be followed by a talk –
"Krishnamacharya and Bhakti Yoga – Nathamuni and Ramanuja"
Krishnamacharya was born into a lineage of philosophical Masters dating back to Nathamuni, a ninth century sage. Ramanuja was a significant teacher in this lineage and is the main acharya of the Visistadvaita Vedanta school. We will explore the key teachings of this school and how they influenced the life and teaching of
Krishnamacharya.
Lunch – 12.30pm – 1.30pm
Session 2 1.30pm – 4.00pm
"Yoga Sadhana – the Method of Attainment"
Sadhana is correct sustained practice that leads to accomplishment. In this session we review the key elements of sadhana and engage in an integrated practice with the aim of experiencing some of the fruits of Yoga Sadhana.
……………………………………………………………………………………………….
FEES & SESSION OPTIONS
……………………………………………………………………………………………….
€25 – Friday evening lecture only –
€130 – Friday night and all day Saturday
€120 – Friday night and all day Sunday
€230 – Full weekend.
Early bird of €195 for the entire weekend if booked and paid for in full by Friday 5th October
*Payment options will be given upon application & booking*
Participation
Thank you for making your payment before the early-bird deadline if possible. Thereafter, price increases to the rate of €230 for the full workshop We reserve the right to refund one day only students if a full workshop participant who registers later is excluded in a session due to space considerations.
Cancellation Policy
Payments for these workshops are non-refundable unless the workshop is cancelled by The Ananta Yoga Studios or your space can be filled. Cancellations will be considered therefore on a case to case basis.
Accomodation
For students travelling from the UK or Europe – please let us know if we can help you find suitable and affordable accomodation or assist with travel plans. Contact details below!
Bookings/Enquiries – Booking is essential!
Call/Text Liz Richards 086 8963425
Email – anantawicklow@gmail.com
www.anantayogastudio.com
……………………………………………………………………………………………….
ABOUT STEPHEN BRANDON
Stephen Brandon has studied Yoga under some outstanding teachers from Sri T.Krishnamacharya's lineage since 1999.
Stephen studied for the Viniyoga Britain Diploma with Ranju Roy and Paul Harvey from 1999 – 2007. During this time he attended workshops & trainings with TKV Desikachar and A.G. and Indra Mohan. In 2007 Stephen met Srivatsa Ramaswami and since then has trained extensively in Vinyasa Krama Yoga and Yoga Philosophy with Ramaswami in India, the USA and the UK and has been responsible for bringing Ramaswami to the UK on several occasions to teach workshops and trainings.
In 2015 Stephen met T.K. Sribhashyam and arranged a 5 day Seminar in the UK in July 2016, taught by Sribhashyam. Stephen continued his contact with Sribhashyam until he passed away in November 2017. He is continuing his studies with Srivatsa Ramaswami and Mrs Brigitte Khan, assistant teacher to Sribhashyam.
Stephen has recently been awarded a First Class Honours Grade in his Philosophy of Yoga & Hindu Studies from the Oxford Centre for Hindu Studies at Oxford University. He is also author with Charles Cox of the VKY Practice Manual.
Stephen's interest in Ayurveda was kindled during his study of Viniyoga and he has continued his studies since then, gaining diplomas from the American Institute of Vedic Studies and Ayurveda Pura London. He also attends annual Seminars with Dr Vasant Lad and is a member of the Ayurvedic Professionals Association and the Complementary Medical Association
Stephen began teaching in 2000 as a requirement of his Yoga training. Numbers of students gradually increased and further teaching opportunities presented themselves and in 2003 Stephen left his engineering job to become a full-time Yoga teacher. Since then he has taught 1:1 sessions, group classes, retreats and teacher training courses. He has taught in health clubs, schools, adult education centres and prisons as well as private classes. Stephen has taught at various Yoga conferences and studios in the UK and Europe.
Qualifications and Training
Yoga Teacher Training Certificates
British Wheel of Yoga Teaching Diploma 2002
Viniyoga Britain Practitioner Diploma 2006
Vinyasa Krama Yoga Teacher Training with Srivatsa Ramaswami 2008
Ayurveda Training Certificates
Ayurvedic Healing Course – American Institute of Vedic Studies 2011
Ayurvedic Diet & Lifestyle Consultant Diploma – Ayurveda Pura Academy 2014
Diploma in Ayurvedic Therapies – Ayurveda Pura Academy 2014
Yoga, Ayurveda and Meditation Advanced Course – American Institute of Vedic Studies 2016
Stephen Brandon is a member of the Complementary Medical Association and the Ayurvedic Professionals Association.
Stephen has studied the following subjects with Srivatsa Ramaswami in addition to his teacher training with him.
Samkhya- Karika
Yoga Sutras of Patanjali
Bhagavad Gita
Hathayogapradipika
Yoga therapy
Mantra Yoga
Surya Namaskara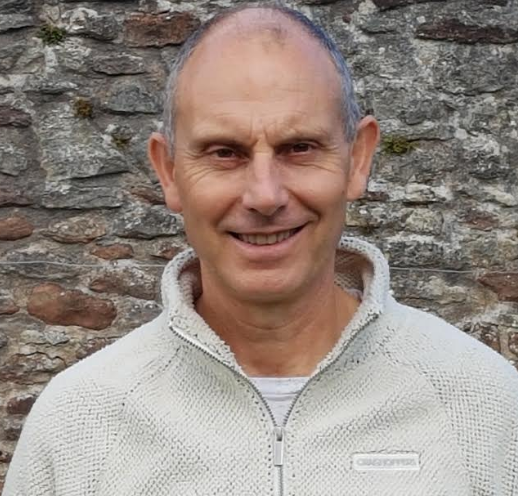 Developing a Personal Vinyasa Krama Yoga Practice
Pranayama, Mantras and Meditation
Yoga for the Internal Organs
Stephens most valued 'qualification' is that Ramaswami directed him to propagate his teachings and at the conclusion of a discussion on Yoga Sutras Ramaswami said, "Your understanding is correct, you go ahead and teach."
Teacher Testimonials for Stephen Brandon
"Steve Brandon's quiet determination is discernible in everything he does about Yoga – whether studying, practising, teaching or propagating this unique discipline. He has equal facility in both the practical and the philosophical aspects of Yoga which would help him to understand and teach holistic Yoga in an exceptional way. He has a strong foundation in Krishnamacharya's Yoga,
having studied under some outstanding teachers from Sri Krishnamacharya's lineage. He has successfully completed my 200 hour Vinyasakrama Yoga program, and has taken part in a number of workshops and training programs in Vinyasakrama and Yoga Philosophy. He is a very good organiser and has successfully arranged several programs for me in UK. I wish him well in all his endeavours in the field of Yoga."
Srivatsa Ramaswami
"Steve Brandon from UK underwent the 200 hr TT program several years ago at LMU. He also attended my programs in Chicago and then in New Delhi India. He has been teaching Yoga for several years and his Harmony Yoga has been successfully functioning for 10 years now. He judiciously combines his yoga knowledge with his Ayurveda background and makes himself doubly useful to his students/patients. He has arranged programs for me in UK for several years. He was keen that I should teach in the UK several of the subjects taught by my Guru. I have been able to teach Hatayogapradipika, Samkhya Karika, Yoga Sutras and the Bhagavatgita. As this would be my last trip to UK for doing long extended programs, I wish to thank Steve for affording me the opportunity to teach these subjects for his Harmony Yoga. He not only organised these programs meticulously but also brought in very dedicated and keen participants."
Srivatsa Ramaswami 2015
"I have known Steve since September 1999. He was very taken with Viniyoga, and went on to study extensively with me. Thus he has had many individual sessions over the years, as well as attending group classes, and Viniyoga Study Programmes. He completed an Introductory Course (5 days), a Foundation Course (10 days) and then the 4 year Practitioner Programme with Paul Harvey. Steve is an unusually dedicated practitioner who really loves yoga – he is absolutely committed to his own practice and continues to develop and explore yoga. He has worked with one of TK
Krishnamacharya's students, Srivatsa Ramaswami with whom he explored Vinyasakrama as taught by Krishnamacharya.
I have no doubts about Steve's abilities as a teacher. He is organised, diligent and a good communicator with a passion for the subject. Steve has been thoroughly trained and continues to develop and refine his knowledge. He is able to teach both therapeutically with appropriate modifications etc (raksana/cikitsa); but also in a more traditional and uncompromised way (siksana)."
Ranju Roy