Yoga of the Five Elements with Stephen Brandon 7 and 8 December
December 7, 2019 @ 9:30 am

-

December 8, 2019 @ 5:30 pm

€165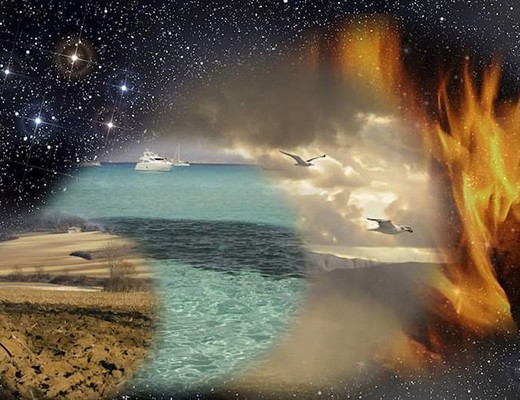 Yoga of the Five Elements with Stephen Brandon on Saturday 7th & Sunday 8th December 2019
Yoga of the Five Elements – Elemental Yoga – -with Stephen Brandon
A two day workshop On – Saturday 7th & Sunday 8th December 2019 At – The Ananta Yoga Studios, 5, Wentworth Place, Wicklow Town
Fee – €165 for both days
Payment is due in full upon booking to hold your place. Limited spaces available. Payment options will be given also upon booking
OPEN WORKSHOP – ALL WELCOME!
Bookings – Contact Liz Richards
Mob:086 8963425
Email: anantawicklow@gmail.com
About:
The knowledge of the five elements is common to Yoga and Ayurveda. The Sanskrit term is – pancha maha bhuta vidya – five great element knowledge.
Ayurveda focuses on balancing the five elements for health, while Yoga seeks their spiritual transformation. These two approaches are related as one acts as the support for the other. The Hatha Yoga Pradipika instructs on the need for elemental balance as a pre-requisite for serious yoga practice.
In this workshop we will explore the science of the five elements and how to cultivate & sustain good health and balance through asana, pranayama and mantra.
Content and Schedule:
Saturday 7th December 9.30am – 5.30pm
9.30am – 11.00am Opening Practice
11.00am – 11.15am Break
11.15am – 12.30pm "pancha maha bhuta vidya" – five great element knowledge
12.30pm – 2.00pm Lunch
2.00pm – 3.00pm Asana and the five elements.
3.00pm – 3.15pm Break
3.15pm – 5.00pm Pranayama & the five elements
5.00pm – 5.30pm Asana & pranayama practice
Sunday 8th December 9.30am – 4.30pm
9.30am – 11.00am Mantras for the elements
11.00am – 11.15am Break
11.15am – 12.30pm Asana, pranayama and mantra practice.
12.30pm – 2.00pm Lunch
2.00pm – 3.00pm Question and answer session.
2.30pm – 3.00pm Five elements in Yoga texts.
3.00pm – 3.15pm Break
3.15pm – 4.30pm Elemental Yoga Practice
This is the first in a series of open workshops over the coming 12 months with Stephen Brandon at The Ananta Yoga Studios which will take a look at some of the important areas of Yoga & Ayurveda as practices for spiritual cultivation. All workshops in this series can be taken individually & are open to all levels & traditions of practice.
Stephen Brandon
Stephen Brandon has studied Yoga under some outstanding teachers from Sri T.Krishnamacharya's lineage since 1999.
He studied for the Viniyoga Britain Diploma with Ranju Roy and Paul Harvey from 1999 – 2007. During this time he attended workshops & trainings with TKV Desikachar and A.G. and Indra Mohan. In 2007 Stephen met Srivatsa Ramaswami and since then has trained extensively in Vinyasa Krama Yoga and Yoga Philosophy with Ramaswami in India, the USA and the UK.
In 2015 Stephen met T.K. Sribhashyam (son of Krishnamacharya) and arranged for him to teach a 5 day Seminar in the UK in July 2016. He continued his contact & studies with Sribhashyam until he passed away in November 2017. Stephen continues to study with Srivatsa Ramaswami and Mrs Brigitte Khan, assistant teacher to T.K. Sribhashyam.
Stephen has recently been awarded a First Class Honours Grade in his Philosophy of Yoga & Hindu Studies from the Oxford Centre for Hindu Studies at Oxford University. He is also author with Charles Cox of the VKY Practice Manual.
Stephen's interest in Ayurveda was kindled during his study of Viniyoga and he has continued his studies since then, gaining diplomas from the American Institute of Vedic Studies and Ayurveda Pura London. He also attends annual Seminars with Dr Vasant Lad and is a member of the Ayurvedic Professionals Association and the Complementary Medical Association.