The Ananta Yoga Studios
5, Wentworth Place, Wicklow Town
Welcome to The Ananta Yoga Studios!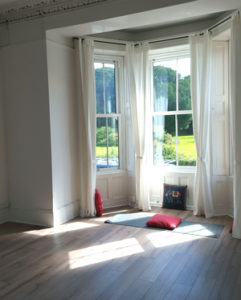 Just minutes from the coast and surrounded by beautiful Wicklow countryside, our studios are conveniently located at 5, Wentworth Place in the heart of Wicklow Town.
A short 10 – 15 minutes drive from Arklow, Avoca, Glenealy, Rathdrum, Rathnew and Ashford, our two beautiful, warm and welcoming studios offer a large variety of Yoga, Pilates & Somatic Movement classes, Mindfulness and Meditation courses, Weekend Workshops and Teacher Trainings for the complete beginner to the advanced practitioner.
We are committed to propagating yoga as an education, a holistic science and a philosophically based practice rather than as a form of entertainment. The welfare of our students is of utmost importance to us.
Studio Space & Facilities:
Two stunning, bright and spacious studios with beautiful views over Wicklows historic Abbey grounds – offer students the opportunity to unwind, escape and enjoy their weekly classes in a peaceful and warm setting with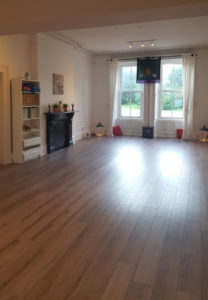 the added bonus of lots of convenient parking facilities, shops, restaurants and cafes only two minutes walk away.
The original studio rooms are purpose built and the interiors retain all the lovely charm and original features of the beautiful old building they occupy. Large sash windows invite natural light to flood in to both studios and afford stunning views of the old Abbey grounds which are also home to mature trees and green park areas and are now open to the public.
Squirrels and rabbits can be frequently observed playing in the Abbey grounds through the studio windows! Old fireplaces and detailed coving in the high ceilings give the studios a soft, cosy authentic ambience and are conducive to restful and peaceful classes for our students.
Classes:
At The Ananta Yoga Studios, Wicklow, we offer a wide range of Yoga, Pilates and Somatic Movement Classes in addition to our increasingly popular Meditation and Mindfulness Courses and now also Yoga for Kids & Teens including – Specialised Yoga Classes for Kids and Pre-teens with physical disabilities.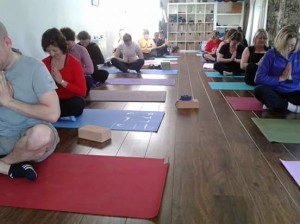 Our studios have also become a very popular venue for Weekend Workshops and Teacher Training Programmes with visiting senior national and international teachers and has steadily earned a reputation as an internationally recognised centre of excellence for yoga education.
Classes/Courses on offer include:

<<<Click here for full listing of classes/courses available>>>
Our Instructors:
We cater for men, women and children of all ages, abilities and levels of fitness. Our fully qualified and experienced instructors each offer great expertise & care in their chosen discipline and have earned a reputation of excellence in the areas they specialise in.
All our adult yoga classes are taught by instructors who are at least 200 hour Yoga Alliance Certified. More importantly – all of these instructors have undertaken and successfully completed this training over a minimum of two years – some longer – to ensure the highest standards of personal practice and foundations for teaching have been established.
In the unregulated domain of yoga teacher training in the modern day, it is possible to complete a 200 hour training in as short a time frame as two weeks to a month & with little or no previous yoga experience. We believe that the significantly longer training period of two and a half years which our teachers have completed, the high standards of personal practice and teaching skills they had to reach & the practice prerequisites they met prior to commencing their training is of utmost importance for the safety and well being of our students.
This is very much reflected in the steady progress we observe in each of our students from week to week. We frequently receive encouraging reports from them regarding the transformative nature of the practice on their overall health & well being. This progress is not of course down to the teacher – but is a reflection of the great effort and commitment of the students as they become self-empowered through the teachers skill & ability to deliver and share the tools of yoga effectively with the maximum benefits. It is a relationship of trust and this trust is based on the students confidence in their teachers.
Our yoga instructors are first and foremost dedicated students of yoga with teaching lineage which can be traced directly back to Professor Tirumalai Krishnamacharya who is known worldwide as the father of modern yoga. We endeavour to deliver pure and authentic yoga, using teaching methodology which is appropriate for – and accessible to – all ages, abilities and fitness levels in a safe and non-competitive environment. Our teachers are continually committed to taking regular workshops and trainings – relevant to the teaching methods they use – to deepen their personal practice and understanding of the subject of yoga and to improve their teaching skills. They also remain open and fluid in their exploration of new, fresh techniques and approaches to the practice. This is then passed on to their students in a clear, safe and well informed way following periods of integration and personal exploration of this work.
We endeavour where possible – and to the best of our ability – to tailor our classes to cater for the more specific needs of each individual student within a group class setting. If this is not possible, students can take some private classes before joining a larger group to address these issues or requirements. It is strongly recommended that students inform the relevant instructors of any medical issues prior to commencing classes in our studios so that we can plan ahead.
Please feel welcome to ask your instructor at The Ananta Yoga Studios about their qualifications, training duration and years of practice and teaching experience. All will be happy and confident to discuss these details with you!
<<<Click here for a full listing of our teachers and links to their profiles>>>
Class Rates & Bookings: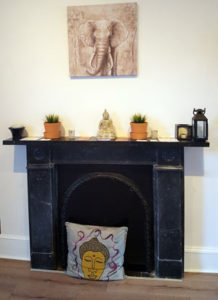 Our class rates are competitive, while still reflecting the high standard of instruction and care each student receives.
We offer discounted rates for blocks of classes purchased and to children, students, the Unwaged, and Old Aged Pensioners and have a flexible and co-operative system in place to allow all students to benefit fully from their classes.
We currently are choosing not to operate an online booking system as we believe that the relationship between teacher and student begins before our students arrive to take their first class.
Important information required in order to give the best possible standards of care and attention to our students is often exchanged through one to one bookings by text or a telephone conversation. We also are attempting to keep our studios as technology free as possible to offer our students a welcome and peaceful break from the constant distraction of screens and mobile phones associated with modern living.
"Your body is precious – it is a vehicle for your awakening – treat it with care". Siddhartha Gautama
We look forward to seeing you soon!
For full class schedule at The Ananta Yoga Studio Click here or call / text Liz Richards on (086)8963425 or contact us here for current class prices and special deals.
We do not generally have our class rates on the website as we frequently offer new and different deals and rates to our students. Please contact the relevant instructors when you have viewed the class schedule – or Liz Richards 086 8963425 for information on current rates and offers and to book a class or course.
Refund Policy – We do not generally offer refunds for classes or courses not taken which have been booked and prepaid – however we will consider any refund requests on a case by case basis.
Complaints Procedures – Any complaints relating to your experience at The Ananta Yoga Studios, must be made in writing to Liz Richards and will also be dealt with and considered thereafter.
Check out our Facebook page www.facebook.com/anantayogawicklow for immediate updates on upcoming classes, events and photos!
Gift Vouchers Available for all of our classes & courses. The perfect gift for every occasion!.
Booking advisable for first time students in case of any late changes to class times or schedule.