Vinyasa Krama Yoga
Comprehensive Certified Practitioner & Teacher Training Programme
Harmony Yoga UK & The Ananta Yoga Studios, Wicklow, Ireland present –
Vinyasa Krama Yoga
Practitioner and Teacher Training Course
VKY PTTC

Next Course – commencing in September 2019
Applications now being taken
(See below for details)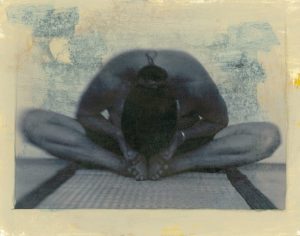 atha yoganusasanam
This is Traditional Yoga
Yoga Sutra 1:1
COURSE OVERVIEW
This course offers a comprehensive training in authentic traditional Yoga, informed by teachings received directly over many years by lead teacher Stephen Brandon from Sri T. Krishnamacharya's direct and most dedicated students. The course format is based on the original system and learning methodology which requires the passing down of teachings in an undiluted manner, teacher to student, in a transmission that is in concord with the source teachings.
This in depth and comprehensive course is the first programme of its kind in Europe. It offers interested, sincere and dedicated yoga students – of all levels and traditions of practice – a unique opportunity to participate in the revival, practice and future propagation of pure & authentic Classical Yoga teachings under the guidance of an extraordinarily gifted and knowledgeable teacher – Stephen Brandon of Harmony Yoga UK and his experienced faculty.
Stephen has been leading Teacher Trainings, Practitioners Programmes & Workshops throughout the UK & Europe since 2007 and has studied in this tradition for 20 years, directly with Srivatsa Ramaswami, A.G. & Indra Mohan, T.K Sribhashyam and T.K.V Desikachar (the latter two being sons of Krishnamacharya) and senior students of these teachers.
The following is a brief overview and presentation of the course.
In the two year Practitioners Course – you will first learn your craft and cultivate a strong and established self practice which will be backed up by in depth knowledge, understanding and embodiment of the principles of the philosophies and important texts which inform the practice. The Practitioners Course is open to all students who simply would like to develop a solid and well informed home practice and to explore the subject more deeply – but who do not necessarily wish to teach. Those who aspire to teach can then proceed into year three where the emphasis shifts to the art of teaching.
We believe this three year learning and integration period is the minimum requirement necessary for potentially teaching yoga to others. Yoga is a philosophy, a science and an art. If one were to study these subjects in university – it would require a minimum of three years to be equipped and qualified to teach them. Why should yoga be any different? The subject of yoga is vast. It is simply not possible to learn and teach it with integrity and right knowledge in a short period of time.
In the relatively unregulated domain of teacher training worldwide – there are many very short (from as little as one month) and expensive 200 hour training programmes on offer. Standards of yoga teaching are falling worldwide and precious knowledge and information from the source teachings are being lost in programmes that do not allow time for integration and understanding to evolve.
It is our aim to ensure the highest teaching standards possible are maintained on this programme and that all students will receive a yoga education which is worthy of the great teachings it embraces.
Course participants will receive ongoing support and mentorship in one to one and group classes following this programme so that the seeds which are sown can blossom.
The next programme commences in September 2019 and is filling up fast. A full and detailed prospectus and information regarding dates & fees for the next training is available immediately upon application in pdf format via email or hard copies can be posted directly upon request.
STAGE 1
Practitioner Training in traditional Yoga for healing, health and spiritual development.
STAGE 2 (Optional)
Teacher Training for individual and group class situations including therapeutic application of Yoga (optional).
ATTENDANCE REQUIREMENTS
Introductory weekend – "The Essentials of Vinyasa Krama Yoga". (See date options below).
200 Hour Practitioner Training followed by an optional 100 Hour Teacher Training. (Course format will consist of Weekend Workshop Modules and 4 day Summer Schools in Wicklow, Ireland).
Please Note – Tutor contact, home study and practice on the combined Practitioner & Teacher Training Programme will exceed the 500 hour standard.
COURSE DURATION –
Two Year Practitioner Course – 200 contact hours
Commences September 2019 – ends August 2021
One Year Teacher Training Course – 100 contact hours (optional – following the two year Practitioners Course)
Commences September 2021 – Ends August 2022
TUITION FEES
Tuition fees available on application.
VENUE , DATES & TIMES
Venue – All pre-requisite workshops and training modules will take place at –
The Ananta Yoga Studios, 5 Wentworth Place, Wicklow, Ireland.
The next course commences in September 2019.
Course format will consist of Weekend Workshop Modules and an annual
4 day Summer module.
Times for each weekend module will be:
Friday evening 7.00pm – 9.30pm
Saturday 9.30am – 5.30pm
Sunday 9.30am – 4.30pm
Times for 4 Day summer modules will be:
Day 1 – 3 9.30am – 5.30pm
Day 4 9.30am – 4.30pm
Introductory Weekend – "The Essentials of Vinyasa Krama Yoga"
February 8th, 9th & 10th 2019
OR
May 31st, June 1st & 2nd 2019
Please note – The Introductory "Essentials of Vinyasa Krama" weekends can be taken without prior commitment to the full Practitioner/Teacher Training Programme and are open to all students. This will allow you to meet the course tutors and help you make an informed decision regarding possible enrolment on the programme.
There is no obligation to commit to the full programme following the weekend. However – it is not possible to enrol on the full programme without having attended a pre-requisite weekend so it is strongly advised that interested students should book onto one of these with plenty of notice.
Priority for spaces in the Introductory weekends will be given to students who are already committed and enrolled on the the full programme.
Bookings for the introductory weekends can be made to Liz Richards (contact details below).
200 Hour Practitioner Training – Module Dates
Module 1 September 20th, 21st & 22nd 2019
Module 2 November 22nd, 23rd & 24th 2019
Module 3 January 31st, February 1st & 2nd 2020
Module 4 March 27th, 28th & 29th 2020
Module 5 June 5th, 6th & 7th 2020
Module 6 August 13th, 14th, 15th & 16th 2020 (4 Day Summer School)
Module 7 September 25th, 26th & 27th 2020
Module 8 November 20th, 21st & 22nd 2020
Module 9 February 5th, 6th & 7th 2021
Module 10 April 23rd, 24th & 25th 2021
Module 11 June 18th, 19th & 20th 2021
Module 12 August 12th, 13th, 14th & 15th 2021 (4 Day Summer School)
100 Hour Teacher Training
5 weekends and a 4 day Summer School.
September 2021 – August 2022
Dates to be confirmed
JOINING PROCEDURE
1. Complete the pre-requisite weekend – "The Essentials of Vinyasa Krama Yoga" Workshop.
2. Submit a course application & have an interview (in person, by phone or Skype).
3. You will then be notified if your application has been successful.
TEACHING CERTIFICATE REQUIREMENTS
1. Complete all the training modules in full.
2. Complete all assessments and home study tasks satisfactorily.
3. Keep a practice diary during the course.
4. Teach an observed class as a Final Teaching Assessment & present 4 individual case studies of four sessions each.
ADDITIONAL TEACHING REQUIREMENTS
1. Indemnity Insurance – (available through Harmony Yoga scheme with Bordengates).
2. A First Aid certificate.
3. The consent of your tutor.
On completion of your training you will be able to join the VKY Teacher Register.
PRACTITIONER TRAINING COURSE CONTENT
Art & Science of Vinyasa Krama Yoga
Yoga Therapy
Yoga & Ayurveda
Pranayama Methods
Yoga Psychology & Meditation Methods
Yoga Subtle Anatomy -Marma, Nadi, Chakra, Mantra; Body, Mind & Spirit
Anatomy and Physiology for Vinyasa Krama Yoga
Philosophy – Classical & Contemporary Texts: Samkhya, Yoga and Vedanta, Hatha-yoga-pradipika, Yoga Yagnavalkya, Yoga Rahasya and Yoga Makaranda
Developing a Personal Practice
TEACHER TRAINING COURSE CONTENT
The Viniyoga of Yoga: Teaching Methodology
Teaching Individual and Group Classes
Anatomy and Physiology including student assessment and common health issues.
Therapeutic application of Yoga methodology
TEACHER TRAINING CERTIFICATION
In order to maintain the integrity of this traditional approach & the highest standards possible, this training will not be registered with an external register as we wish to set our own standard guided by the approach of this tradition.
The course tutors all have knowledge and experience far in excess of any required current training standard. We will maintain a register and full worldwide indemnity insurance will be available to graduates.
COURSE TUTORS
Stephen Brandon MCMA <<Read full bio here>>
Dr Norah Nelson <<Read full bio here>>
Liz Richards SYT <<Read full bio here>>
For further information and full prospectus contact
Liz Richards at The Ananta Yoga Studios
Mob – 00353868963425
Email Liz Richards – anantawicklow@gmail.com
The Ananta Yoga Studios, 5, Wentworth Place, Wicklow Town, Co. Wicklow, Ireland.
Website – www.anantayogastudio.com
Facebook – /anantayogawicklow
Email – anantawicklow@gmail.com
Tel – 00353 (0) 86 8963425