What Are Marmas & How Do Marma Treatments Work?
Yoga settles busy minds, which would explain its popularity. It works by quietening Prana. Prana is understood, in the ancient Vedic tradition of India, as that which moves the mind. It also moves all activities and functions of the body. The common yoga postures and breathing exercises, along with effective meditation, normalise prana
to integrate and still both the mind and body. Returning to activity afterwards you retain a measure of balance and integrity.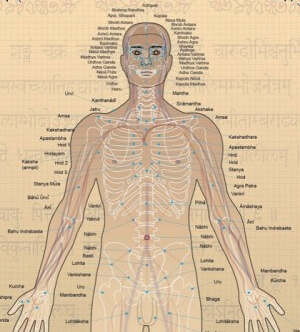 There is a body of Prana. Surrounding and infusing your body, it connects with mind. It is through this 'Prana Mayakosha' that the mind constructs and governs the body. The direct connection between mind and body is this body of Prana. Yoga is a subtle science to enhance and balance this connection and so has the power to heal.
In the ancient health tradition of Ayurveda there was a more direct way to influence Prana for health. This was Marma treatments. Marmas are 108 points all over the body where the Prana is especially lively, creating and organising the surrounding structures and functions.
There are very subtle treatments that work on these points using aroma oils and very gentle touch. This is called Sukshma Marma. Through gentle touch, the flow of prana is enhanced and made coherent. The consequence of that is to remove blocks, encourage healing and revitalise.
The experience is one of quietening down within in, to stillness. The still mind in Ayurveda is considered the source of all our thoughts, intelligence and ultimately of the body as well. Approaching this during deep meditation or sukshma marma is accessing the memory of order and enlivening the inner intelligence of the body. From that comes the healing and rejuvenating effects.
What To Expect From A Marma Treatment
A marma treatment lasts for an hour. Specific points are enlivened on the head, and then on hands and feet. If there are health problems, the appropriate marma points will be stimulated. After the treatment you are left to rest for a few minutes and advised to take it easy for the rest of the day.
Experiences vary. All find it a deeply restful and enjoyable treatment. Some notice within days they are more relaxed, some have deeper meditations and some notice definite healing, varying from structural problems like bad backs to health issues like sinusitis,
tinnitus, sleep etc. For significant health issues repeated treatments are likely to be required.
This unique, enjoyable & deeply healing treatment will become very popular.
Marma Therapist - Dr Donn Brennan MB BCh BAO, MRCGP, MScAyu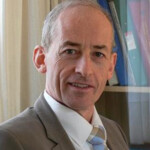 Dr Donn Brennan was one of the first western medical doctors to train in India in Ayurveda and has also completed an MSc in Ayurveda in Middlesex University, London. He qualified in medicine in 1979 at UCD and then as a G.P.
Since 1990 he has worked full time promoting, lecturing and consulting in Ayurveda. He has featured in many newspaper articles and on radio and television programmes. He was the founding President of the Ayurvedic Practitioners association in the United Kingdom.
In 2018 he trained at Maharishi Vedic University Holland in Maharishi Marma Therapy, an ancient energy healing system using gentle massage of special marma points in the body.
He has authored a book and CDs on Ayurveda and consults in Dublin
and London.
MARMA TREATMENT FEES
One hour treatment – €65
BOOKING A MARMA TREATMENT
Wicklow: Contact Liz Richards Mob 086 8963425
Email: anantawicklow@gmail.com
Dublin: Contact Dr Donn Brennan at www.ayurveda.ie