Maxine Bonus - Teacher Profile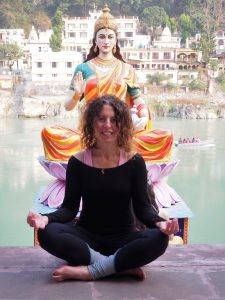 Maxine has been practising yoga since 2008, when she initially came to yoga as a pro-active approach to injury prevention while engaging in other activities such as cycling and long distance running. Her journey began with the practice of Ashtanga Yoga. A year later she was introduced to Vinyasa Flow and immediately connected with this style where asanas are connected through the breath for a transformative and balancing effect.
Maxine is a dedicated practitioner and faithful student of The Ananta Yoga Studios and acknowledges the organic attainment of a strong body and inner peace from a consistent practice. Under the invaluable guidance of The Ananta Yoga Studios founder and lead instructor Liz Richards, Maxine has seen her own practice evolve steadily. This has been further enhanced through regular attendance at weekend workshops at The Ananta Yoga Studios & also trainings with Yoga Therapy Ireland.
In 2016 Maxine completed a 200hr Vinyasa teacher training at the birthplace of yoga in Rishikesh, India at the Vinyasa yoga school there. A training highlight for Maxine was the priviledge in attending the 5 day immersion course in Vinyasa Krama led by Srivatsa Ramaswami hosted by The Ananta Yoga Studios in Wicklow in 2018. Following this introduction to the Vinyasa Krama method (as passed on directly to Ramaswami by the great Sri T Krisnamacharya, Maxine is continuing her yoga training on a 300 hour course with Steve Brandon a senior student of Ramaswami and well respected yoga teacher & Ayurveda Therapist who is a beacon of knowledge in all things yoga. In 2019 Maxine completed a foundation chair yoga course with Claire Osbourne in order to deliver chair yoga classes to those for whom mat yoga is not an option.
Eager to pass on and share the positive benefits of yoga practice with the younger generation, via a fun filled creative yet intelligent approach Maxine undertook Yoga Ed's Professional Institute Foundations 1 & 2, Teaching Kids & Teens Yoga. She teaches classes for kids & teens including classes for kids and pre-teens with physical disabilities at The Ananta Yoga Studios. To further enhance her children's yoga training and to ensure that yoga is available to each and every child, Maxine also became a certified Therapeutic yoga teacher for children with additional needs including ASD, ADD/ADHD, DCD, CP, Down Syndrome, SPD and children with Emotional and Behavioural Difficulties and has worked extensively in this area with both group and one-to-one classes.
Maxine is also a wife and mum to two grown up daughters & 2020 saw the family expand to include a gorgeous little grand-daughter. Maxine has introduced yoga to all the family and is immensely grateful to have yoga in her life. She loves to travel and be in the outdoors and enjoy quality time with friends and family.
Classes with Maxine at The Ananta Yoga Studios
Contact Maxine – (086) 8052486 / maxinebonusyoga@gmail.com