Liz Richards - Teacher Profile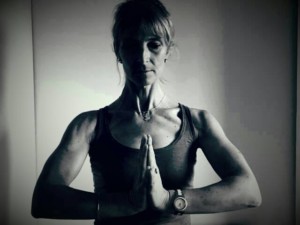 Liz Richards is the founder of The Ananta Yoga Studios and a registered SYT (Senior Yoga Teacher) with Yoga Alliance Professionals UK  with over 1000 training hours behind her. She has been teaching Yoga full time since 2009.
She teaches Classical Yoga using the Vinyasa Krama system and Hatha Yoga principles for all levels from Beginners – Advanced students and her teaching is firmly rooted in the lineage of Krishnamacharya.

Liz's passion for yoga is preceded by a love of ballet,  modern dance,  gymnastics and equestrian sport in her youth. Having dipped in and out of the internal arts of Yoga, Tai Chi  & Karate from her late teens, she began attending regular yoga classes following the birth of her third child in a bid to improve her general health and over come post-natal depression.
She established a disciplined daily practice in the form of Ashtanga Yoga and was instantly drawn to the often challenging physical aspect of this ancient discipline and the mental peace and clarity which began to reveal itself through the practice.
An enquiring mind and a desire to immerse herself more deeply in the philosophy behind the system of yoga and the hugely transformative nature of the practice,  led her eventually to enrol on the first 200 hour teacher training programme in 2007. She continued into a second advanced training in 2009. These trainings set Liz up for a rapid and complete immersion into all things yoga and she went on to apprentice on two further 200 hour teacher trainings in 2010 and 2015 – each over a two year period.
Throughout her yoga journey to date,  Liz has explored and practiced many different forms of and approaches to yoga and has taken workshops and trainings with senior international teachers in all.   These include Iyengar,  Ashtanga, Vinyasa Krama , Viniyoga & Shadow Yoga.    Liz has taken workshops in Somatic Movement and Somatic Yoga under the guidance of Brian Siddhartha Ingle which have proven invaluable in her yoga teaching.
In  2016, Liz commenced studies with Senior Vinyasa Krama teacher Sri Srivatsa Ramaswami – who was a direct student of the legendary Sri Krishnamacharya from the tender age of 15 right until Krishnamacharyas's passing  34 years later.   Ramaswami remains a faithful disciple to his Guru to this day and has made it his life's work to propagate the ancient yoga teaching, lineage and methods as transmitted exactly to him by his Guru – Krishnamacharya.
Liz completed  a 25 hour extended programme under Sri Ramaswamis guidance in Brombachtal, Germany in August 2016.  In  March 2018 – she successfully completed Sri Srivatsa Ramaswamis 100 Hour Advanced  Vinyasa  Krama Training in Chennai,  Tamil Nadu, South India and in October 2018 completed a further 30 hours of Vinyasa Krama studies in a five day extended programme with Ramaswami in her home town of Wicklow.    Her studies with Ramaswami are ongoing.
She is also currently a student of Ramaswami's  senior UK  Vinyasa Krama teacher Stephen Brandon and has completed a 95 Hour Comprehensive Vinyasa Krama training in the UK under his guidance between  August 2017 & 2018 and continues to be mentored by Stephen in both her capacity as a student and teacher of yoga.  In August 2018, Liz had the honour of meeting with A.G. & Indra Mohan – also both  longstanding, students and senior teachers of Krishnamacharya and has been profoundly influenced by their wisdom and teachings. She has more recently had the honour of studying with Nitya Mohan in June 2019 during Nityas visit to The Ananta Yoga Studios.
Liz is grateful for all of the inspiring and humble teachers who have illuminated her path and for the privilege she has every day of teaching truth seeking students from as young as three years of age all the way up to 90.   She has taken what has resonated from all of her studies and life experiences to date and infused it into her own practice and teaching, being guided by her students and their individual needs and stage of life.  A disciplined and daily self practice remains the inspiration & foundation for both her teaching and her ongoing journey of self enquiry through this powerful and ancient practice.
Liz has spent much time studying Yogic texts including Patanjali's Yoga Sutras, The Hatha Yoga Pradipika (among other important Hatha Yoga Texts), The Bhagavad Gita,  Upanishads, Yoga Yajnavalkya, and the philosophies of Sankhya, Mimamsa, Nyaya, Vaisheshika and Vedanta.  She has a keen interest in the teachings of Sri Ramana Maharishi, Sri Nisargadatta Maharaj,  Jiddu Krishnamurti & Swami Rama and has studied many of their works and offerings over the past few years.  She studies & practices Ayurveda (the sister science of yoga) in her daily life and in the management of the health and well being of her family and is grateful to Dr Donn Brennan & Dr Rajvinder Kaur for their guidance and wisdom.
She established The Ananta Yoga Studios in April 2009 where she continues to teach daily classes embracing all of the teachings she has been exposed to as well as being a busy wife and Mum to three beautiful children. She is currently leading workshops & yoga retreats in Ireland at The Courtyard Yoga Retreat in Co. Wicklow and Marlfield House in Co. Wexford and has taken on a teaching role in the 300 hour Vinyasa Krama Practitioner & Teacher Training Programme which will commence at The Ananta Yoga Studios from September 2019 and is being led by one of her senior teachers Stephen Brandon of Harmony Yoga & Ayurveda UK.
Liz is committed to bringing the highest standards of teaching and wisdom to both her regular and also visiting workshop students so that all may benefit from & share directly in the teachings she has been lucky enough to receive over the years she has been studying and practicing yoga. The Ananta Yoga Studios has hosted some outstanding teachers for workshops and programmes and continues to deliver authentic and classical teachings through the wisdom of these humble  and wise teachers of yoga to national and international students.
She feels privileged to be working along side other inspiring and great teachers of many disciplines in such a beautiful space. She is grateful every day for the opportunity to share the little knowledge she has acquired and is humbled to find that as first and foremost a student of yoga herself, it is in fact her students who are among her best teachers.
All Vinyasa Yoga Classes with Liz Richards are open to both male and female students from 15 years of age. Separate teen classes cater for those aged 12 – 14 years. 
Classes with Liz Richards at Ananta Yoga Studio:
Contact Liz Richards:
T: (086) 8963425
Facebook:/anantayogawicklow