Lesley-Anne Ross - Teacher Profile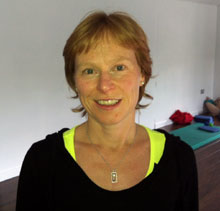 Lesley-Anne Ross – MISCP, M Sc., Grad Cert (Acup.), BCPA.
Lesley-Anne is a Chartered Physiotherapist and Pilates Instructor. She specialises in women's health, particularly back and pelvic problems antenatally and postnatally and pelvic floor dysfunction.
She trained in Pilates with Body Control in London and has been teaching Pilates for over 10 years. She was the co founder of Dublin Pilates Studio, one of the first Pilates studios in Ireland.
Her focus is in using Pilates to enhance the bodies natural movement patterns and therefore maintain a healthy, balanced spine and pelvis.
Classes with Lesley-Anne at Ananta Yoga Studio
Maximum of 10 people in each class
Contact Lesley Anne Ross
Tel:  (086) 8220372