Reset, Renew, Release & Recharge – Two morning Hatha Vinyasa Yoga & Meditation sessions with US senior teacher James Higgins – 14th & 15th April
James Higgins is by now a regular and popular visiting teacher in our studios and returns for his fourth visit this April to weave a little magic in two three hour morning sessions at The Ananta Yoga Studios. We hope you can join us for one or both sessions! Early booking advisable! Full details below.
Yoga and Meditation Immersion Weekend
with James Higgins
At – The Ananta Yoga Studios, 5, Wentworth Place, Wicklow Town
On – Saturday 14th & Sunday 15th April 2018
Times – 10.00am – 1.00pm each day (Three hours each session)

Fee – €45 – One session
€80 – two sessions
Fees must be paid in full by Wednesday 28th March to hold your space. Refunds will not be given for cancellations after this date unless your space can be filled by another student.
Bookings – Booking is essential!
Call/Text – Liz Richards 086 8963425
Email – anantawicklow@gmail.com
ABOUT
Explore the depth of your yoga practice and refine your connection to your body, mind, heart and soul.
Join us for a deep immersive weekend each day will consist of 3 hours of practice. Open to all levels of experience as teachers or students and all backgrounds of participants.
THE PRACTICE
A mindful, insightful, meditative yoga practice week designed to engage participants from the very core of their physical, mental, emotional, and spiritual centers.
Through informed and skilled asana instruction, guided meditations, yoga nidra, pranayama, imagery and visualization, psychological inspiration, and set periods of restorative rest, ample time will be provided to plug in and clarify the farthest reaching positive intentions one has for themselves in making further contact and acknowledgment of their souls longings, deepest needs and wishes, dreams, and heart felt inspiration.
The weekend will instill messages and material to assist the practitioner in reaching for and making contact with their higher potential and living with more clarity and purpose in the world.
Some benefits of the weekend.
Release any hidden tensions which may be causing any physical limitations, mental stress, painful or repressed feelings, emotional stagnation, trauma, fatigue, depression, or any hidden states of sadness or unhappiness.
– Periods of meditative rest will assist in taking the necessary time to absorb and assimilate the deep work and to gain clarity about ones life direction from a soul level.
– The practice periods are specifically created for personal development and healing by further establishing an authentic connection to their unique and sacred self and personal source of inspiration and wholeness.
– Finding, following, and discovering dormant resources of personal power and inherent goodness through the gift of grace and surrendering will lead the way through any resistances that could possibly arise.
– Softening ourselves further and developing skill of intuition through love, care, and kindness as the foundations of our spiritual work as yogi's will be instilled throughout the week.
– The classes over the week will compliment one another for those looking for an overall life path reset/reboot and a mini retreat in the midst of their everyday lives.
– There will be some challenging asana sequences however none will be led to overwhelm the students capacity but designed to explore the very thresholds of ones ability to focus, engage, release, let go, enjoy, and rest in a good hearted way.
– Gain technical proficiency in asana structures and deepen your meditation practice.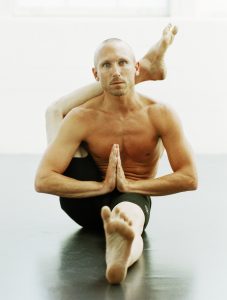 – Develop further clarity on your teaching style and what you are offering and sharing from the heart and soul.
– lighten the load of anything which might be holding one back or weighing the spirit down.
– If you need some space to work things out, take time to gain some clarity, get a shot in the arm, or a good kick in the pants, and balance that out with some good medicine of love and kindness then this workshop weekend could be a perfect fit for you.
JAMES HIGGINS
James Higgins has entered twenty years of teaching experience and more than twenty five years of practice. He travels internationally offering a unique appealing and challenging style of Meditative Hatha Vinyasa Yoga Practice grounded in spiritual care. With a strong emphasis on the integration of physical, mental, and emotional wellness, each of his classes holds the intention for peaceful healing and conscious evolution.
Join James Higgins for a week that will facilitate great ease, focus, compassion, clarity, kindness, care, understanding, and personal empowerment.
Early registration encouraged, spaces will fill quickly. All levels are welcome.