Shakti Rasa and Vinyasa Krama Workshop
with Marianne Jacuzzi
"Becoming the Body of Light"
At – The Ananta Yoga Studios, 5, Wentworth Place, Wicklow Town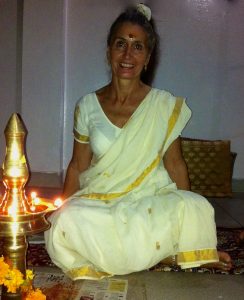 On – Sunday 3rd December
Times – 10.00am – 1.00pm
2.00pm – 5.30pm
(Both sessions must be taken)
Cost – €85
Bookings – Booking is essential
Contact Liz Richards – 086 8963425
Email – anantawicklow@gmail.com
THIS WORKSHOP IS FULLY BOOKED. IF YOU WOULD LIKE TO GO ON THE WAITING LIST PLEASE GET IN TOUCH & WE WILL CONTACT YOU IF A SPACE BECOMES FREE!
We are delighted to welcome Marianne Jacuzzi to The Ananta Yoga Studios this December for the first time!
ABOUT
This one-day workshop is a practice intensive. In it you will experience the full dimension of yoga practice: asana, pranayama, meditation and chanting. Though the day will also include a short teaching on yoga philosophy – because understanding the "why" behind yoga can generate momentum for disciplined practice – the workshop is primarily experiential. It is about establishing habits that will purify your body and enlighten your mind. It is about Doing It!
Know this: it is only upon tasting the mango that its sweetness is understood!
The day includes all of the following:
 A vigorous asana practice in the Shakti Rasa style
 Vinyasa Krama asana sequences
 A basic pranayama session
 Japa Meditation (chanting)
 Silent Meditation
 Deep Relaxation
 Vinyasa Krama explained in the context of the Krishnamacharya lineage
 Yoga Philosophy: a nugget of wisdom in plain English—straight to the heart
Though this workshop is not suitable for complete beginners, an advanced asana practice is certainly not a prerequisite either. Everything can be modified to suit the individual yogi. Yoga practice is powerful medicine for body and soul. Breath is the vehicle of prana. Prana is life-force energy. Yoga practice channels that energy. It creates strong bodies, clear minds, open hearts. It purifies the subtle body of light, quite literally raising the vibration of your cells. It infuses your daily life with peace and harmony: deep down into your bones, where truth is unshakeable.
Wherever you are with yoga, this workshop will take you one step further on your path.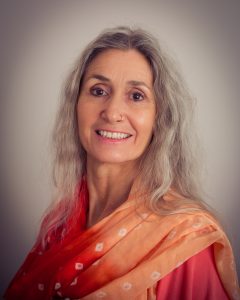 ABOUT MARIANNE
Marianne Jacuzzi leads yoga retreats and workshops around Europe, and teaches philosophy for various teacher-training courses. She founded Seven Winds Yoga and Jyotish in Dublin, where she has taught since 2000. A spiritual counsellor and Vedic astrologer, she reads charts and gives consultations,assisting others in understanding the unique karmic forces active in their lives and channeling that power to realise their highest potential.
After teaching for years in the Ashtanga, Iyengar and Sivananda traditions, her personal practice evolved into her own approach, called Shakti Rasa, a fluid style that incorporates breath and meditation into powerful asana work. Along with Shakti Rasa, she teaches the Vinyasa Krama sequences of Krishnamacharya as transmitted through Srivatsa Ramaswami. Her classes also include pranayama, chanting, and meditation. For years, she studied in India with Sri K. Pattabhi Jois and other traditional yoga masters. She is Yoga Alliance certified at thehighest level: E-RYT- 500 and is also a Yoga Alliance continuing education provider: YACEP.
Marianne's practice began nearly fifty years ago in San Francisco, where she was born and where– while still a
schoolgirl– she began meditating with Maharishi Mahesh Yogi. She studied Eastern philosophy at the University of California, Berkeley. Initially, yoga was for her an entirely spiritual practice,though her background in dance led soon to asana too. With Buddhist priest and scholar David Brazier, she studied Buddhist psychotherapy in the UK. With eminent yoga scholar Georg Feuerstein, she completed over a 1000 hours of course work in yoga philosophy. She qualified as Jyotish Kovid with the Council of Vedic Astrology after mentoring with Dennis Flaherty and other Jyotish masters, both Western and Indian. She has a BA and an MA in English Literature from the University of California, and published a novel, Blood Memories, in 2008.
In 2003, she met her guru, Ramesh S. Balsekar, who accepted her as his disciple. Until his mahasamadhi in 2009, she travelled regularly to Bombay to the satsangs he gave from his flat. His teaching of Advaita Vedanta, so profound and yet so simple, transformed her. The wisdom of Ramesh informs her teaching, her practice, and her personal life. A lifetime of seeking found its resolution at the feet of Ramesh, and to him she is eternally grateful.